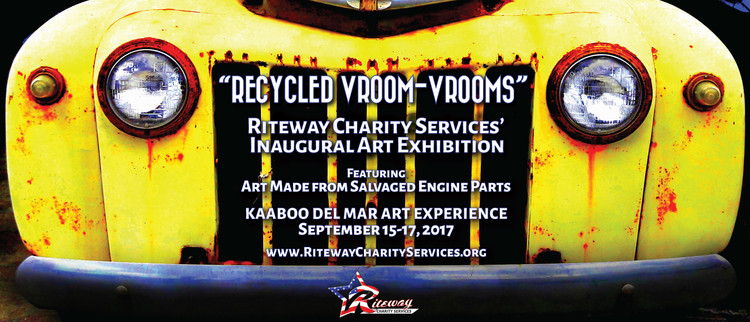 RECYCLED VROOM-VROOMS & KAABOO KINDNESS
"RECYCLED VROOM-VROOMS", (featuring exclusive works of art made from salvaged automotive and motorcycle parts, in addition to works on canvas, limited edition prints on recycled bamboo paper, and fine art photography), will allow them to reach out and meet a massive audience during the three-day festival while benefiting many good, charitable causes, thru the sale of art.
KAABOO is billed as "An adult escape, uniquely curated to appeal to all five of your senses." In addition to the gallery exhibition, a thoughtfully co-curated limited-edition print series created exclusively for the KAABOO KINDNESS silent auction, between Riteway Charity Services and Sugar Press, will be available during KAABOO Del Mar, and online.
"RCS+SP @ KAABOO17: Print Series 1" includes hand signed, numbered, archival pigment artworks, printed on sustainable Bamboo Paper, and sealed with the official Sugar Press chop mark. During the silent auction, 100% of all proceeds from earnings generated by "RCS+SP @ KAABOO17: Print Series 1", will be distributed among the KAABOO community partners through their charitable giving program, KINDNESS.
A selection of these prints will also be available on line at Sugar.Press, with all net proceeds benefiting these charities: *Armed Services YMCA, SanDiego (ASYMCA), the *Surfrider Foundation, San Diego County Chapter, Voices for Children (Voices for Children transforms the lives of abused, abandoned, or neglected children), and the Global Music Charity of KAABOO: The MusiCares Foundation. *Indicates NPO's enrolled in Riteway's Vehicle Donation Program.
http://tinyurl.com/http-RCSKAABOO-com
Contact Project Curator:
Shawni Groves